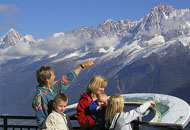 During the winter season
A midi, un self-service est à votre disposition à partir de 11h30. Profitez-en pour vous restaurer et vous détendre sur la terrasse ensoleillée du Prarion, entre deux pistes ou deux promenades. Vue imprenable sur les "4000" de la chaîne du Mont-Blanc !
1 Director
1 Head-Chef
1 Restaurant Pastry Chef
3 Assistant chefs
3 Dishwashers
1 Chambermaid
1 Receptionist
2 Barmen or Barmaids
1 Jack-of-all-trades
3 "bar/ brasserie" waiters or waitresses
1 Restaurant waiter/ waitress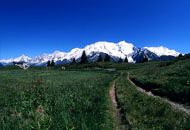 For the summer season
Starting on the 15th of June to the 15th of September, the Prarion's team includes:
1 Director
1 Chef de cuisine
1 Assistant chef
1 Dishwasher
1 Chambermaid
3 Restaurant waiters or waitresses
We're looking for competent and dynamic people to join the team and to help us in our endeavor to make our establishment a place to remember.
Most of these positions include bed and board. Half the employees speak at least one foreign language.
Prarion employees will receive complimentary ski passes so that they can hit slopes in their free time.
Contacting Us
If you'd like more information or if you'd like to apply by sending your C.V. with a cover letter, write us at info@prarion.com.